Wow Switcher - Legal Multiboxing Software
Wow Switcher is an easy, free, and legal multiboxing software for World of Warcraft and Classic. It allows you to switch between several WoW windows. It has no input broadcasting at all so it fits Blizzard's ToS.
News
2022-05-05 Version 1.2c with actual time prolonged to another 1 year has been released!
2021-10-07 Version 1.2b with actual time prolonged up to 1 year has been released!
2020-12-23 Version 1.2a with prolonged actual time has been released!
2020-11-30 Version 1.2 "Cheap license" has been released!
2020-11-23 Version 1.1 "Move Mouse Cursor" has been released!
2020-11-20 Version 1.0 "Multiboxing strikes back" has been released!
Features
Cyclic switch between WoW windows via any number of configurable hotkeys.
Cyclic switch between WoW windows via mouse click with any modifier.
Mouse wheel and buttons also available as hotkeys.
Switch to a concrete WoW window via number.
Move mouse cursor to the switched window.
The program works both in windowed and full-screen modes.
If you are newbye in multiboxing, please see the
Starting Guide
for initial setup.
If you are already multiboxing, the
Switching Guide
tells how Wow Switcher can make your gameplay more confortable.
Is Wow Switcher legal?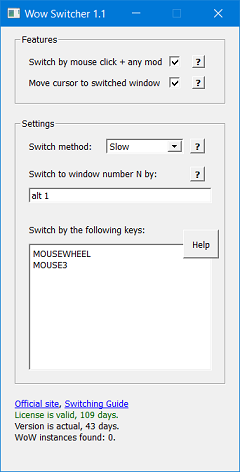 Yes (
official Blizzard answer
). It doesn't broadcast the input at all. However, people can still report you because they might think you use old-style software.
Is using Wow Switcher difficult?
No. Just run it.
Is Wow Switcher free?
Yes. You can play 2,5 hours for free every day. To play more time per day you should buy a license.
Yes, I want to try it!
Download
standalone executable
(Windows 64-bit) and run it.
I need to buy a license
Just visit the
buy page
.
Also, Wow Switcher accepts Levelbuddy's licenses. So if you already have one, you don't need a new license.
Still have questions?
See
Starting Guide
and
Switching Guide
(videos included).
Ask at
Discord channel
.
Report problems to author via
Discord message
or
email
.
© Vasily Starostin, 2020.